Our future, on your terms
The future of the pharmacist profession is in your hands. Never settle for good enough. Choose to be part of Australia's only government-recognised peak body, and the largest community of passionate, like-minded pharmacists who support each other and champion the needs of the profession.
PSA is the leader in education and support for pharmacists new and established.
We never settle in our pursuit of excellence and with our support you won't have to either.
To start your PSA journey, choose your path from the selection above to see what PSA can offer you.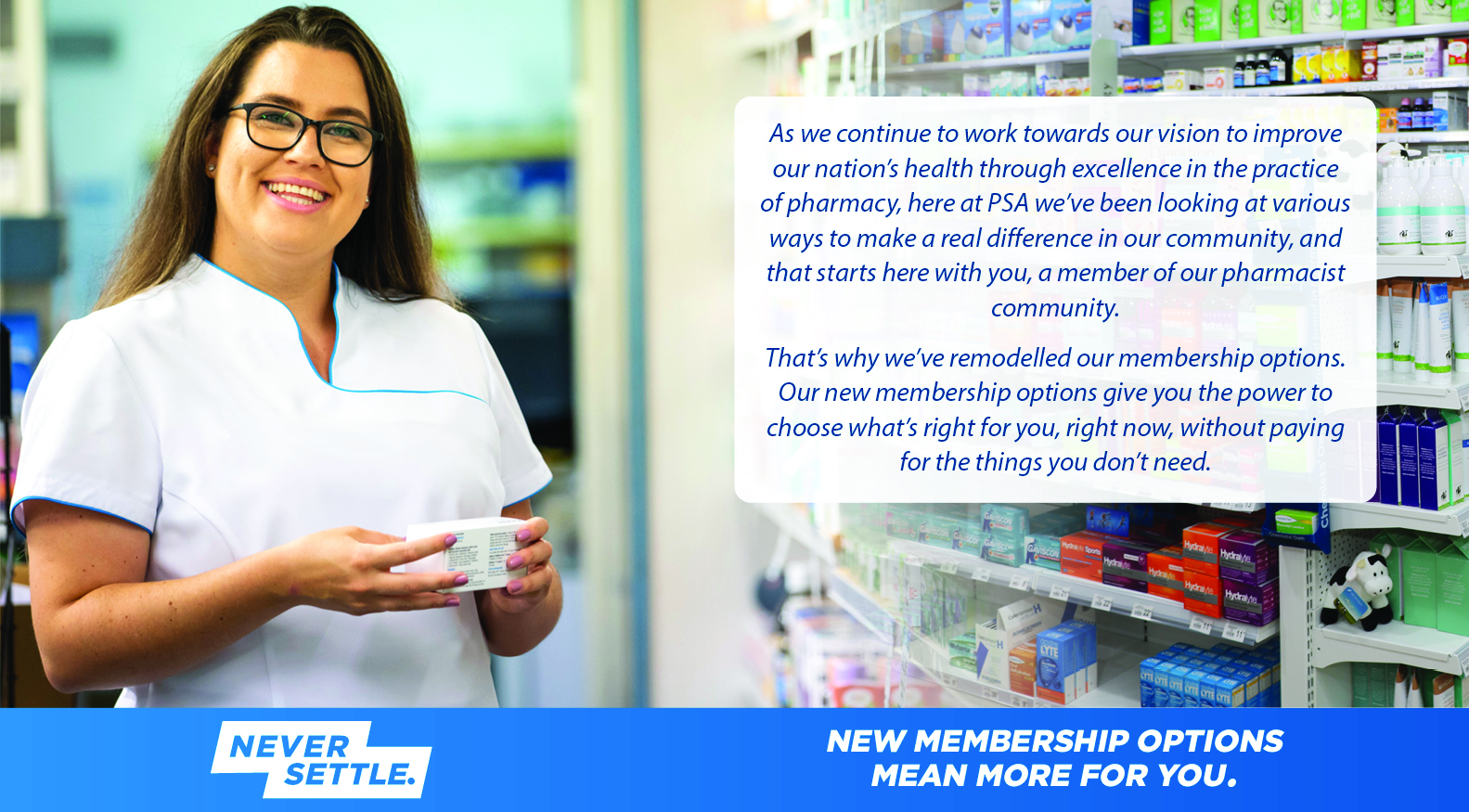 Below are PSA's new membership options – choose what is right for you, right now and use the benefits that suit you.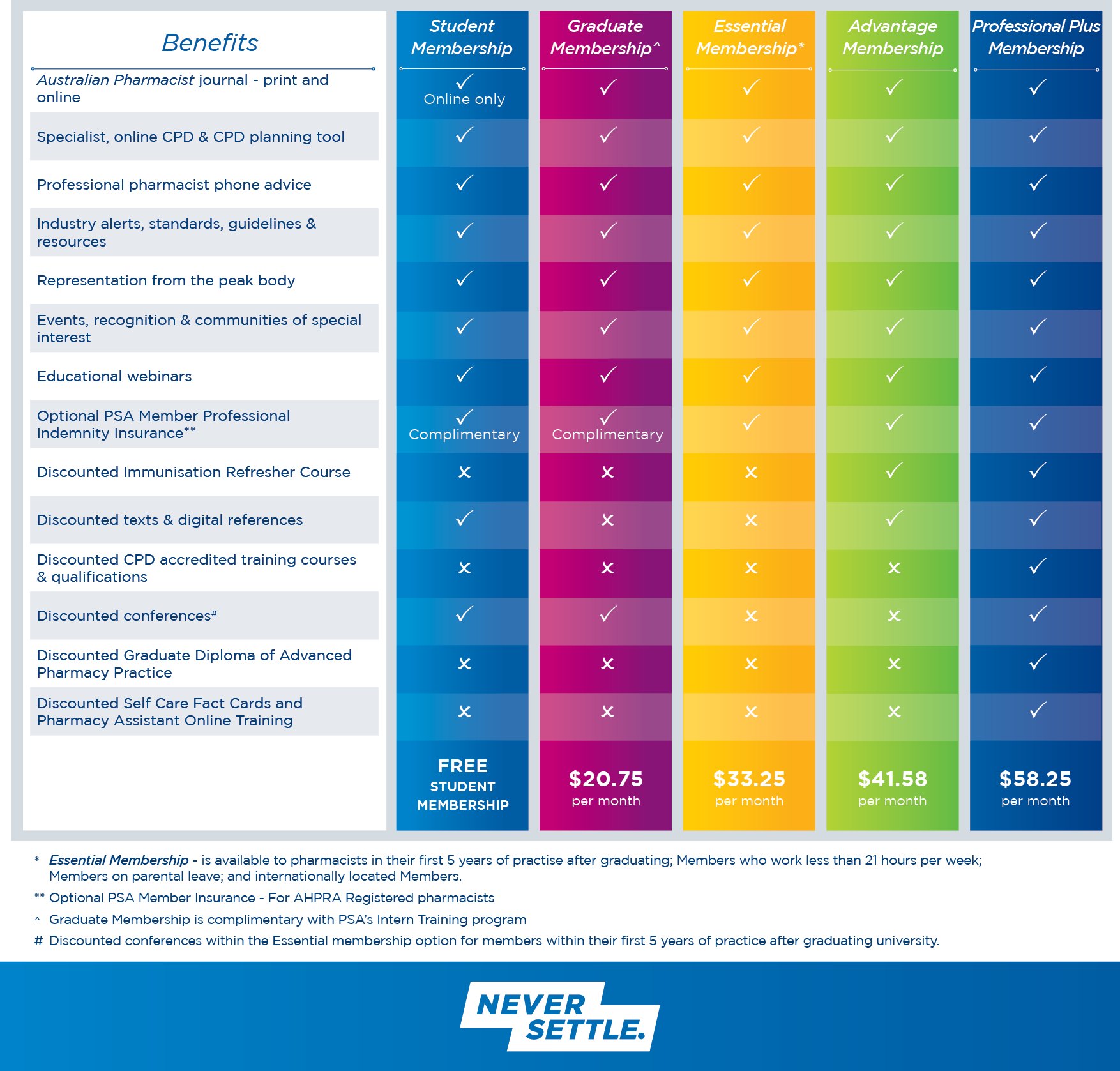 FAQs
Why the new membership options?
We have listened to our members' feedback and simplified our options adding more value to your membership and giving you the power to choose what's right for you, right now, without paying for the things you don't need.
As we continue to work towards our vision to improve our nation's health through excellence in the practice of pharmacy, here at PSA we've been looking at various ways to make a real difference in our community, and that starts here with you, a member of our pharmacy community. That's why we've remodelled our membership options. Learn more here.
Do I still get voting rights?
If you are a current member who is an APHRA registered pharmacist (or was at the time of retirement), then you are eligible for voting rights and the right to stand for office elected positions. Your voting rights, like other member benefits, may be suspended if your membership subscription payment becomes overdue.
Members who are not pharmacists registered with AHPRA, for example, an international pharmacist member practicing and registered overseas, are not eligible for voting rights but can still enjoy other member benefits. See the PSA Constitution for more information
When and how can I change my membership option?
Your PSA membership is a 12 month annual subscription. You can upgrade your  membership option to access more benefits for a 12 month period at any time, simply call our friendly customer service team on 1300 369 772.
If you wish to downgrade your membership option you can do so at your membership subscription renewal time. You will be notified several weeks prior your membership renewal becoming due.
When I can start accessing my membership benefits?
Your access to member benefits is granted from the day your membership subscription starts. This will either be the day you join as a member and pay for your subscription, or your renewal date.
If you have changed your membership option, and renewed your membership subscription in advance of your renewal date, you will have to wait until your renewal date to access the benefits of your new membership option.
You can access your benefits by logging into your PSA Member Portal here.
What is included into the different membership options?
It depends on the membership option you've selected. Find out more here.
I'm at the start of my career and only just finished my internship, do I get any extra discounts?
As an early career pharmacist, and a PSA member, you will access many opportunities whether you want to build your network of colleagues and/or advance your career through additional education, support services and exclusive member benefits and discounts. In addition, if you are within your first 5 years of practice after graduating from university, you will receive special discounts on conferences including the PSA's National Conference and Annual Therapeutic Updates.
Once you finish your internship, ensure you renew your PSA membership, so we can support you from the very beginning of your career as a pharmacist. Learn more about your options here, or simply call our friendly Member Services team on 1300 369 772.
Need help with membership? Please contact the friendly PSA Member Services team on membership@psa.org.au or 1300 369 772.