Joe Foster MPS
Albany, Western Australia
Joe Foster MPS is a community pharmacist and professional services manager in the regional town of Albany, Western Australia. He is a part-owner of TerryWhite Chemmart in Chester Pass, and is a credentialed pharmacist.
A typical day for Joe Foster MPS
8.45am: drive to work (the beauty of living in a country town is a very short commute!)
9.00am: clock on. Speak to the opening Pharmacist to see how the first hour of trade has been. Ensure all of our overnight online orders are ready to collect before we get busier for the day.
9.30am: prepare some COVID vaccines for our morning bookings. On most weekdays we have three Pharmacists working and we will all take turns in vaccination depending on who is available at the time
10am: support the dispensary in the busiest time of the morning. Hopefully make a morning coffee sometime before midday if the opportunity arises.
12pm: double check the daily wholesaler order prepared by one of DAs.
1pm: lunch – very important for good functioning in the afternoon!
1.30pm: review my Home Medication Review (HMR) referrals and call a couple of patients to organise a time to visit them.
2pm: one of our DAA patients has been discharged from hospital. Assess their medication changes and make the changes on the computer before passing the information on to our medication packer.
2.30pm: support the S2/S3 section and provide Pharmacist advice to patients.
3pm: a patient has returned after completing an overnight sleep study. Discuss their results with them and the recommendations of the sleep physician.
4pm: follow up on business emails and do some stock control for the dispensary. Engage with staff and check if they there if they need any support.
4.30pm: staff will be starting to go home – ensure I am available to help patients and dispense prescriptions.
6pm: close the doors, print the end of day reports, alarm the store and go home!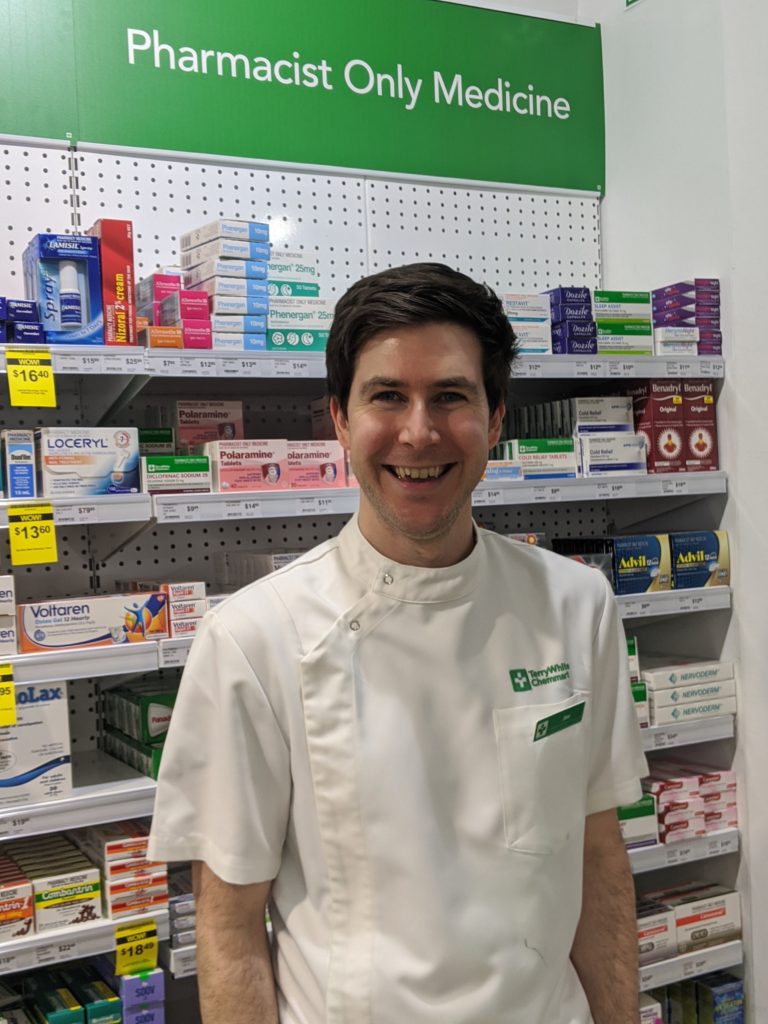 Why do you think pharmacists are vital to the healthcare team?
"We all know the Pharmacists are the most accessible health professional," Joe tells PSA.
"The ease of access means that we become a natural triage point for healthcare – and this can be for minor ailments up to conditions that need urgent referral. I always make it clear to our interns that we don't need to directly 'solve' every problem – sometimes a referral to a GP or in some cases, the hospital, is the most important thing we can do.
"There is good evidence that patients have better outcomes if there care is managed by a multidisciplinary team. Pharmacist's knowledge of medicines, and the connection with the individual patients, is integral to that team care approach."