PSA22: PSA Symbion Excellence Award Winners Announced
29 July 2022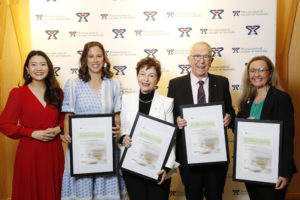 The Pharmaceutical Society of Australia (PSA) is proud to announce the winners of the 2022 PSA Excellence Awards, who were recognised today during the PSA22 conference in Sydney. This year's Excellence Awards are proudly sponsored by Symbion.
The PSA Excellence Awards acknowledge the achievers of the profession: those involved in innovative practice, those who are striving to raise practice standards, and those who, through their professionalism, provide a model of practice which others strive to emulate.
The winners of the 2022 PSA Symbion Excellence Awards are:
     Pharmacist of the Year – Faye McMillan, Coolamon, New South Wales.
Early Career Pharmacist of the Year – Deborah Hawthorne, Wangaratta, Victoria.
     Lifetime Achievement Award – Terence White and Rhonda White, Brisbane, Queensland.
PSA National President Dr Fei Sim celebrated the winners and their outstanding contributions to pharmacy and their communities.
"I congratulate the award winners for their dedication to the pharmacist profession and their commitment to community health and wellbeing," she said.
"Each of this year's winners has a unique background, from passion for rural health, to a lifetime of service to accessible community health care.
"I am incredibly proud to announce Associate Professor Faye McMillan as the 2022 PSA Pharmacist of the Year for her remarkable career as a pharmacist, and in particular her work within Aboriginal and Torres Strait Islander communities.
"Faye has had a great impact on the health of Indigenous Australians, as well as the pharmacy profession more broadly. I cannot think of a pharmacist more deserving of this award.
"The 2022 Early Career Pharmacist of the Year Deborah Hawthorne has done fantastic work as a General Practice Pharmacist, ensuring that pharmacist expertise is available where medicines are.
"Deborah is demonstrating the innovation, energy, and best practice we love seeing from our early career pharmacists, and we are excited to continue to support her throughout the rest of her promising career.
"This year's Lifetime Achievement Award goes to Queensland powerhouses Terry White AO and Rhonda White AO. Their contributions to pharmacy are too great to list, with thousands of Australian pharmacists knowing them as mentors, confidants, friends and advocates of our profession.
"We are pleased to award Terry and Rhonda a joint Lifetime Achievement Award, recognising their lifetime together as advocates for Queensland pharmacy and leaders to pharmacists around Australia."
Symbion CEO Brett Barons also congratulated the award winners.
"In this, the eighteenth year Symbion has sponsored the PSA Excellence Awards, we remain as proud as ever with our association," he said.
"The PSA Excellence Awards are the pre-eminent individual awards in our industry and this year's winners are inspirational. Their contribution to our industry and the lives of so many has been enormous.
"I would like to acknowledge Deborah Hawthorne as Early Career Pharmacist, Faye MacMillan as Pharmacist of the Year and Terry and Rhonda White, the trail blazing team we have admired so closely, as worthy recipients of the Lifetime Achievement Award."
PSA extends thanks to award sponsor, Symbion, for their ongoing support of the event, and looks forward to working with them again in 2023.
For media notes on the award winners, please contact Georgia Clarke on 0410 505 315 or email georgia.clarke@psa.org.au