Graduate membership
Joining Australia's peak body for pharmacists gives you so many next level benefits that will help you to be on top of your game during the first year of your career. And to welcome you to your profession, you can now take your career to the next level with PSA for just $15 a month – that's 75% off a full membership price!
Next level graduate benefits
Access to exclusive educational events and conferences
Meet like minded young pharmacists as well as experienced members
Online support using forums and our closed Facebook group
Highly regarded CPD activities and discounted literature
Be affiliated with Australia's peak body for pharmacists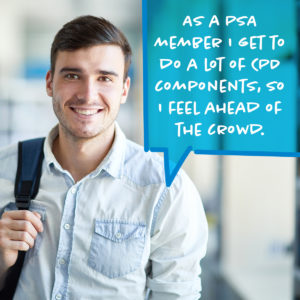 Price

$14.99 per month* – 75% discount on full membership
Easy monthly, quarterly or annual direct debit payments available.
*PSA membership is for a 12 month period. If you terminate your membership early you will be liable for the balance of your 12 month membership.
Complimentary membership is available with PSA's Intern Training Program
Australia's most comprehensive intern training program
Need more information on graduate membership or PSA's Intern Training program?
Your membership team are waiting now to answer your questions on 1300 369 772 or