Brisbane to host FIP World Congress 2023
22 September 2022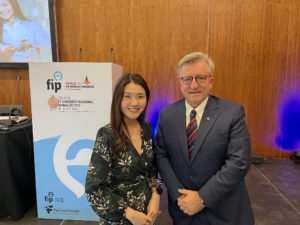 The Pharmaceutical Society of Australia (PSA) has today confirmed that the International Pharmaceutical Federation (FIP) 2023 World Congress of Pharmacy and Pharmaceutical Sciences will take place in Brisbane from 24-28 September 2023.
PSA National President Dr Fei Sim, who is attending the 2022 World Congress in Seville, said that she was proud to be bringing the international event down under.
"This will be an opportunity for Australian pharmacists to connect with international pharmacy leaders like never before, right here on our own shores," Dr Sim said.
"The FIP World Congress is well known for being the premier global conference for the pharmacy profession, featuring internationally acclaimed speakers and exciting social events for pharmacists in a variety of practice settings.
"We are very proud to be working closely with FIP to bring the World Congress to Brisbane, and to showcase the hard work and dedication of Australian pharmacists to the world."
PSA also congratulates Paul Sinclair AM MPS, who was elected as the next FIP President and will serve from 2023-2027.
"To be able to host the World Congress here in Australia, under the leadership of the first ever Australian President is a momentous occasion that we are excited to share with pharmacists from around the country.
"We are excited to work with Paul and the FIP team to strengthen our international engagement and make a global impact."
Mr Sinclair said: "I am honoured to have been elected as the next president of FIP and to be the first Australian to hold this post."
"I look forward to working with all our Member Organisations to deliver the FIP mission and to promote Pharmacy in all its forms worldwide. FIP Congress in Brisbane next September will be a great opportunity to showcase Australian pharmacy to the world."
FIP President Dominique Jordan also expressed his excitement about FIP heading to Australia for the first time in 20 years.
"FIP, the home of the global pharmacy family, is delighted to be going to Brisbane next year under the banner 'Pharmacy building a sustainable future for health care'," Mr Jordan said.
"Sustainability — for people and our planet — is a concept ingrained in global development. Development must be sustainable to be successful. Universal health coverage must be sustainable. We are very pleased to be holding our next annual congress in Australia after a gap of 20 years; FIP's last World Congress of Pharmacy and Pharmaceutical Sciences being held in Sydney in 2003.
The entire FIP team is looking forward to working with our members the Pharmaceutical Society of Australia, the Society of Hospital Pharmacists of Australia, and the Australasian Pharmaceutical Science Association to develop a vibrant event that will gather expertise and experiences from a vast international network for the benefit of all, as One FIP. Together, we will agree principles, long-term goals and short-terms actions to maximise the contribution of pharmacy."
Media contact:   Georgia Clarke   M: 0410 505 315     E: georgia.clarke@psa.org.au