COVID-19 vaccine information for pharmacists
This information was last updated 14 September 2021
On this page: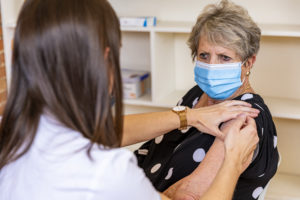 Top resources for pharmacists
Australian Government consent form for administration of COVID-19 vaccines
Helps people find out when they can receive a COVID-19 vaccine, book an appointment if eligible or register interest
A joint statement from the Australian Technical Advisory Group on Immunisation (ATAGI) and the Thrombosis and Haemostasis Society of Australia and New Zealand (THANZ) on Thrombosis with Thrombocytopenia Syndrome (TTS) and use of COVID-19 Vaccine AstraZeneca (23 May 2021)
Resource to help consider potential benefits against risk of harm from COVID-19 Vaccine AstraZeneca. This includes age-specific comparisons of risk of avoided ICU admissions and rare blood clots.
Information about COVID-19 vaccines has been translated into over 60 languages. Help your patients access information in their language.
ATAGI advice for women who are pregnant, breastfeeding or planning pregnancy (June 2021)
Links for specialist information services for every state/territory. These services provide specialised immunisation advice and care to clinicians and families. These services have specialised nursing and medical staff to provide clinical advice on immunisation for patients with complex or unusual medical backgrounds or who have had an adverse event following immunisation.
The Department of Health (Australian Government) has produced the following patient handouts, which are the preferred (and in some stated mandated) sources of information to provide patients regarding COVID-19 vaccination:
Resources to assist pharmacists administering COVID-19 vaccines:
The Department of Health (Australian Government) have prepared additiona resources for people administering COVID-19 vaccines: COVID-19 Vaccination – Provider resources.
COVID-19 vaccine regulatory requirements
This table describes the current regulatory requirements for pharmacist-administered COVID-19 vaccines in your jurisdiction. This information is a guide and should not be used as a substitute or replacement for review of regulation and legislative instruments.
All pharmacists vaccinators administering COVID-19 vaccines must complete the relevant modules of the Department of Health's COVID-19 vaccine training program. Administrative or non-clinical staff can also enrol to access the non-clinical modules, including handling, storage and administration.
Pharmacists and pharmacy staff, like all health care workers, are now eligible to receive their COVID-19 vaccine. In addition to primary care providers listed on COVID-19 vaccine eligibility checker, all state and territory governments have committed to providing eligible people under the age of 60 years access to the Pfizer COVID-19 vaccine via jurisdictions. Some jurisdictions are also offering health care workers >60 years their choice of vaccine.
The table below contains information on how health-care workers under the age of 60 years can access COVID-19 vaccination with the Pfizer vaccine, as well as describe vaccination sites operated by state health departments which are additional to sites operated by vaccine providers in primary care (general practice, pharmacies and ACCHOs).
Member enquiries
PSA will continue to provide updates as we receive information. To speak with one of our team, including the member-only Pharmacist-to-Pharmacist advice line, please call PSA on 1300 369 772 or send us an email.