PSA22 comes to a close, PSA23 announced
31 July 2022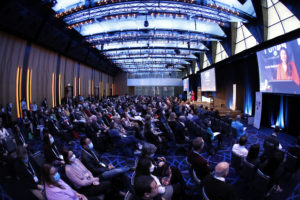 The Pharmaceutical Society of Australia (PSA) has today closed the leading education and professional development conference for pharmacists, PSA22, in Sydney. The conference brought hundreds of Australian pharmacists together to further their professional education and discuss the major issues facing the profession.
PSA National President Dr Fei Sim said the conference was a great opportunity for pharmacists to come together, face to face after three years.
"Pharmacists played a significant role in the health and wellbeing of Australians, having been on the front lines of the COVID-19 response, and delivering more than 8 million COVID-19 vaccination doses to date," Dr Sim said.
"PSA22 has been a great opportunity for pharmacists from all around Australia to reconnect and celebrate what makes our profession great.
"I was proud to officially launch the Medicine Safety: Disability Care report on Friday, the fifth in PSA's Medicine Safety Series.
"The Medicine Safety: Disability Care report identifies the real and significant issues Australians living with disability face. It is our duty, as healthcare professionals, to keep working to make care accessible and appropriate for everyone.
"PSA was also proud to give members the opportunity to hear directly from the Federal Minister for Health and Aged Care, Mark Butler MP, about the incoming government's agenda, and how we can continue to support the health and well-being of Australians.
"We were also able to recognise and celebrate our hardworking profession through a series of awards presented to outstanding pharmacists."
The 2022 award winners are:
Symbion Pharmacist of the Year – A/Prof Faye McMillan (NSW)
Symbion Early Career Pharmacist of the Year – Deborah Hawthorne (VIC)
Symbion Lifetime Achievement Award – Terence White AO and Rhonda White AO (QLD)
MIMS Intern Pharmacist of the Year – Shaylee Mills (WA)
Locumate Locum Pharmacist of the Year – Sean Richardson (SA)
Viatris Pharmacy Student of the Year – Haylee Shaw (Tas.)
APSA Most Outstanding Oral Presentation winner – Lily Pham (NSW)
APSA Most Outstanding Poster Presentation winner – Oya Gulal (Vic.)
"Congratulations again to all the 2022 award winners and newly inducted Fellows of the Society and thank you to all the panellists, speakers, staff and volunteers who made PSA22 happen."
Dr Sim also announced that PSA23 will be held in Sydney, NSW in July 2023.
"It is so valuable to come together, share our experiences as pharmacists from a range of settings, and learn from one another. We cannot wait to see you next year."
Media contact: Georgia Clarke   M: 0410 505 315     E: georgia.clarke@psa.org.au