PSA22: Viatris Pharmacy Student of the Year Announced
30 July 2022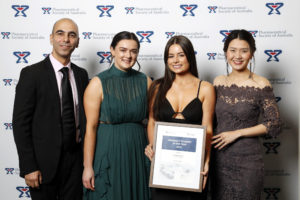 The Pharmaceutical Society of Australia (PSA) is proud to congratulate Haylee Shaw from the University of Tasmania for taking out the 2022 PSA Viatris Pharmacy Student of the Year (PSOTY) award.
PSOTY awards recognise and celebrate outstanding pharmacy students by showcasing their counselling skills to the pharmacy profession and is a highlight of PSA's annual flagship conference.
PSA National President Dr Fei Sim congratulated the winner.
"Congratulations to Haylee Shaw for successfully taking out the Pharmacy Student of the Year award," Dr Sim said.
"This competition provides students the opportunity to demonstrate important skills such as gaining patient insights and patient understanding, active listening and skills that support positive patient outcomes.
"PSA is dedicated to making pharmacy an attractive career path for young people and celebrating success regardless of where you are in your career.
"Each of the students who participated in the PSOTY competition has demonstrated impressive professionalism, skill, and dedication. PSA wishes them the best in what I'm sure will be successful careers as pharmacists."
Haylee says she has always had an interest in pharmacy and is excited to network and learn from other pharmacists.
"I have always admired the accessible nature of the pharmacy profession. The ability to provide evidence-based advice and quality use of medicines to any member of the community without cost that is something that really attracted me to this career path.
"I entered this competition as I wanted to push myself and further my practical experience. I was also excited to be a part of the national conference and hear from likeminded peers and professional."
Viatris Head of Business Development, Strategic Partnerships, Portfolio and Sourcing, Charbel Azzi, also reiterated their continued support for the next generation of Australian pharmacists.
"At Viatris, we see pharmacists as the custodians of medicine safety and efficacy. We're delighted to renew our sponsorship of the Pharmacy Student of the Year Award this year to support the pharmacy professionals of the future.
"They play a vital role in empowering Australians to live healthier at every stage of life, a mission we share. I was heartened by the drive and dedication of all the winners. I was particularly inspired by Haylee's exemplary patient counselling skills, and congratulate her for winning this year."
The People's Choice Award was presented to Chloe Woodward from Newcastle University. 

PSA extends thanks to the PSOTY award sponsor, Viatris, for their ongoing support of the event, and looks forward to working with them again in 2023.