QUT takes PSOTY Wildcard 2020 at NAPSA Congress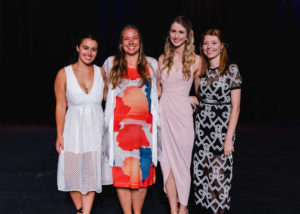 The Pharmaceutical Society of Australia (PSA) congratulates Melinda James of Queensland University of Technology (Queensland) for securing the Pharmacy Student of the Year (PSOTY) Wildcard title at NAPSA Congress in Newcastle.
The PSOTY Wildcard final was fiercely contested amongst a group of talented students across Australia, including:
JOSHUA CLEMENTS – GRIFFITH UNIVERSITY (Queensland)
KURTIS GRAY – UNIVERSITY OF WESTERN AUSTRALIA (Western Australia)
MADELINE HILLS – UNIVERSITY OF WESTERN AUSTRALIA (Western Australia)
MELINDA JAMES – QUEENSLAND UNIVERSITY OF TECHNOLOGY (Queensland)
MAEGAN JOHNSON – LATROBE UNIVERSITY (Victoria)
ANTONI UKALOVIC – CURTIN UNIVERSITY (Western Australia)
Proudly supported by Mylan, the Pharmacy Student of the Year counselling competition recognises pharmacy students by showcasing their counselling skills to the pharmacy profession. Students are given the opportunity to utilise their clinical knowledge and implement their counselling skills using real life pharmacy scenarios.
"It is refreshing to see such capable and passionate students in this competition that are the future of pharmacy", PSA National President, Associate Professor Chris Freeman said. "Active listening, gaining adequate patient insights and checking patient understanding are important skills that support medicines safety and maximise patient outcomes".
Melinda James as the PSOTY Wildcard winner will travel to the PSA20 National Conference held in Sydney from 31st July – 2nd August 2020, to compete for the national title of Pharmacy Student of the Year 2020.
Media contact: PSA Media – 0487 922 176