Report reveals 72,500 rural and remote Australians admitted to hospital each year due to medicine-related problems
Saturday, 13 March 2021: A new report has revealed 1.3 million rural and remote Australians do not take their medicines at all or as intended adding an estimated $2.03 billion to our annual health care costs.
The Medicine Safety: Rural and remote care report, developed for the Pharmaceutical Society of Australia by Charles Sturt University, also found that 72,500 rural and remote Australians are admitted to hospital each year due to problems with their medicines, costing the health care system $400 million.
The report was launched by NSW Health Minister Brad Hazzard in Sydney today.
PSA National President Associate Professor Chris Freeman said the report's findings showed significant health discrepancies for those living in rural and remote Australia compared to those residing in metropolitan areas.
"The seven million Australians living in rural and remote Australians deserve better," A/Prof Freeman said.
The report found:
the rate of unintentional drug-induced deaths is higher than in capital cities
there is an increased disease burden and potentially preventable hospitalisations is up to 2.4 times more than that of non-rural Australians
the rates of medicines supplied for mental health conditions are lower in remote and very remote areas despite the higher incidence of mental health issues in these areas
the rate of preventable hospitalisations for Indigenous Australians is three times higher than that of non-Indigenous Australians and
53 per cent of the Indigenous Australians participants in a regional Australian study were affected by suboptimal prescribing, polypharmacy and inappropriate or under-prescribing.
A/Prof Freeman said the report revealed the challenges in accessing health care including limited access to much-needed medicines.
"This is in part due to the tyranny of distance, inflexible regulations and health workforce shortages," he said.
Medicine safety: rural and remote care also highlights that available data, specifically focused on the needs of rural and remote Australians is sparse and insights into the area must be improved.
"One of the most concerning findings is the lack of data and these numbers are conservative and a gross underestimation," A/Prof Freeman said.
"We need to be far better at recording these medicine-related problems when they occur so we can provide better care and better solutions."
The report recommends a series of actions to help address medicine-related harm in rural and remote Australia.
The recommendations include establishing accredited rural generalist pharmacists who would work with GPs and other health professionals to collaboratively prescribe, order pathology tests and do more to support people's chronic disease.
It also calls on governments to fund pharmacists to work in Aboriginal Community Controlled Health Organisations and fund case conferencing for pharmacists as part of the health care team in rural and remote areas.
"Pharmacists in rural and remote areas are often the main available health care provider and we need to allow them to be able to use their expertise to support the patients," A/Prof Freeman said.
"It should not matter where you live – all Australians are worthy of the best health care the country can provide. We must address rural and remote challenges of medicine safety as a matter of urgency."
The report can be found at https://www.psa.org.au/advocacy/working-for-our-profession/medicine-safety/medicine-safety-rural-and-remote-care/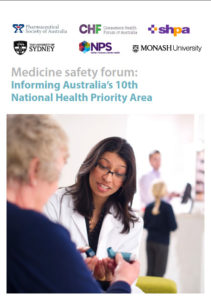 Media contact: PSA media 0487 922 176