Vaccine pay parity well overdue
Wednesday 19th January 2022
The Pharmaceutical Society of Australia (PSA) is renewing its call for pharmacists to receive equal pay for COVID-19 vaccination services, to that received by other providers.
Despite the recent increase in payments for booster vaccination services, an unfair and inequitable pay disparity between immunisation providers still remains.
PSA National President, A/Prof Chris Freeman, said that there are no more excuses to deny pay parity following record weeks of vaccination.
"Pharmacists have now administered over four million COVID-19 vaccinations to Australians, in another milestone achievement following record weeks of vaccinations.
"In the last three weeks alone, pharmacists have administered a record 1 million plus vaccinations. This is an incredible effort from all of Australia's pharmacist immunisers, especially during a period when much of the nation was on holidays.
"These record statistics come on the back of a moderate increase in payments for booster vaccinations, demonstrating what can be achieved with more appropriate resourcing.
"It is disappointing that significant pay disparities remain, with pharmacists' still being paid much less than other vaccination providers, like GPs, for doing the same job. Increasing remuneration by $8.45 per booster vaccine, taking the payment to $34.45 from $26, would achieve pay parity for pharmacists.
"Now that we've seen what can be achieved with better resourcing, it is time to remunerate pharmacists fairly and equally for their work.
"This is critical to keeping the vaccine rollout program on track, particularly in relation to childhood vaccines, where they have reverted back very low payments for pharmacists. Subsequently, only half of the pharmacy network has opted to provide immunisations to this group.
"Without fair and equitable remuneration for the administration of all COVID-19 vaccines, the Government risks having the paediatric vaccination program fall behind," he said.
Graphs below: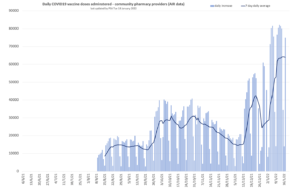 (Source: Australian Department of Health https://www.health.gov.au/resources/collections/covid-19-vaccination-daily-rollout-update)

Background
The following table shows a breakdown of the pay rates for different providers:
Description
Pharmacists
General Practitioners
*MM1 Fee
*MM2-7 Fee
*MM1 Fee
*MM2-7 Fee
First Dose Administration
$16
$19
$31.05
$37.70
Second Dose and Booster Dose Administration (by same provider)
$26
$29
$34.45
$37.80
Childhood 5-11 First Dose Administration
$16
$19
$24.45
$27.80
COVID-19 Vaccine Suitability Assessment (billable once only)
Nil
Nil
$39.10
$39.10
Pharmacists receive a flat $26 for administering a booster vaccine, whilst GPs may be able to claim additional dose administration ($34.45), and a suitability assessment ($39.10) for a total of $63.55. This is higher for GP's in rural areas and after hours.
No after-hours payments are available for pharmacists despite many providing access outside of normal business hours.
If all three doses and a COVID-19 Vaccine Suitability Assessment are provided by the same practitioner, in a major city, a pharmacist would receive $68, whilst a GP would receive $139.05.
*MMM = Modified Monash Model defines whether a location is a city, rural, remote or very remote. It measures remoteness and population size on a scale of Modified Monash (MM) category MM 1 to MM 7. MM 1 is a major city and MM 7 is very remote.*
Media contact: PSA media 0424 777 463