Digital Health Guidelines For Pharmacists
About the guidelines
Purpose
The Digital Health Guidelines for Pharmacists describe the professional obligations of pharmacists when interacting with digital health systems in performing their professional clinical roles. These guidelines provide guidance on expected professional practice when using digital health systems, so that pharmacists can provide optimal patient outcomes, while meeting legal and ethical obligations relating to data access and stewardship. The guidelines should be used as a tool to support practice and professional decision making, and ensure that patients' needs, beliefs and preferences are met. They can be used as an educational resource to inform quality assurance processes, and provide support when resolving legal disputes and ethical dilemmas.
Scope
The Digital Health Guidelines for Pharmacists are applicable to all settings in which pharmacists practise and interact with digital health, including settings where the pharmacist does not dispense medicines.
Guidelines produced by the Pharmaceutical Society of Australia (PSA) are not definitive statements of correct procedure but represent agreement by experts in the field. The guidelines do not set a prescribed course of action or a mandatory standard to which pharmacists must adhere.
The guidelines do not provide a technical guide on how to operate digital health systems; rather, they provide guidance on the minimum professional and ethical behaviour for pharmacists when using digital health systems in the delivery of health services.
Acknowledgements
Development of the Digital Health Guidelines for Pharmacists has been supported by the Australian Digital Health Agency. This document supersedes the My Health Record Guidelines for Pharmacists (2019), and incorporates much of this previous version. The work to update the guidelines included review by experts, stakeholder feedback, and the consensus of organisations and individuals involved. The Pharmaceutical Society of Australia thanks all those involved in the review process and, in particular, gratefully acknowledges the contribution of the following individuals and organisations.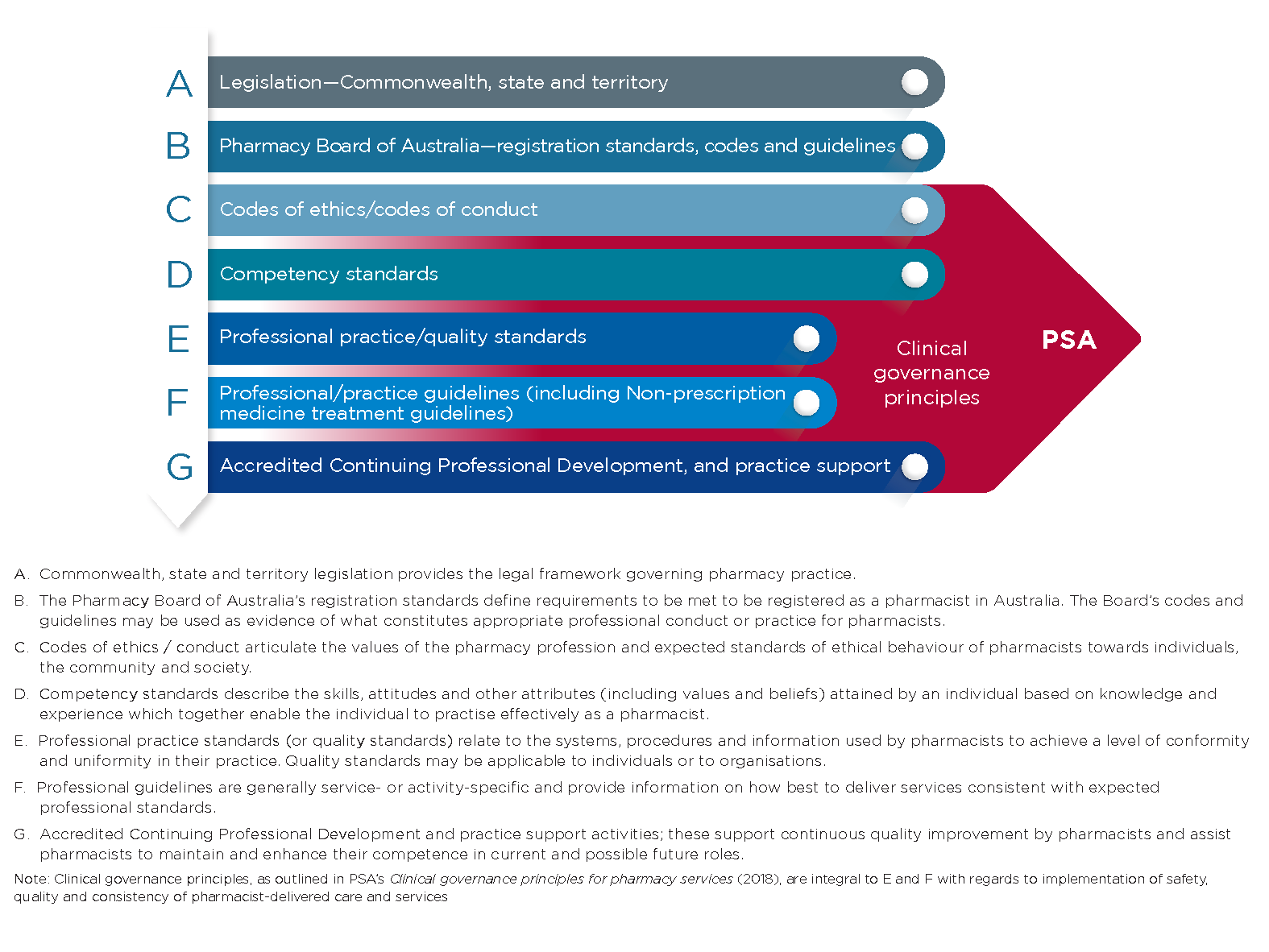 Pharmacists are expected to exercise professional judgement when adapting the guidance provided in these guidelines to specific circumstances. The guidelines sit within a broader hierarchy of guidance underpinning and supporting the practice of pharmacists working with digital health systems (see Figure 1).
It is important to review these guidelines in conjunction with the current versions of the:
Pharmacy Board of Australia Code of Conduct for Pharmacists

National Competency Standards Framework for Pharmacists in Australia

PSA Code of Ethics for Pharmacists

• PSA Dispensing Practice Guidelines

• PSA Professional Practice Standards

• Australian Commission on Safety and Quality in Health Care National Guidelines for On-Screen Display of Medicines Information (2017)

• Australian Commission on Safety and Quality in Health Care National Guidelines for On-Screen Presentation of Discharge Summaries (2017)
Guideline Sections
Note: Refresh your page is you have any difficulty opening the Guideline Section